Pravetz-82/8M/8A/8E/8C
(Building!)
Bulgarian computers information text file, vers.
Check out the home address for new versions of the info file.
&nbsp

&nbsp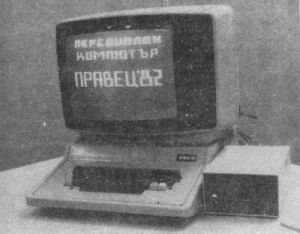 Early Pravetz-82 with a TV-set as monitor


&nbsp



Advertising of Pravetz-82 in the magazine "Radio, televiziya, electronika" from 1984




Pravetz-82 on Plovdiv Spring Fair 1984




Pravetz-8M with a plotter




Pravetz-8M in a room for interactive computer graphics training, developed by "Mechanotronika" - Gabrovo and CNIKA - Sofia.




Advertising of Pravetz-8C on the bottom cover of "Computer for you" issue July-August 1990




Pravetz-82 used for Morz-code training. You can see the monitor VMCH-01 and the keyboard of Pravetz-82




Pravetz-8M or Pravetz-8A(?) (the white one on left) on the exhibition "Made in Sofia 1987".
&nbsp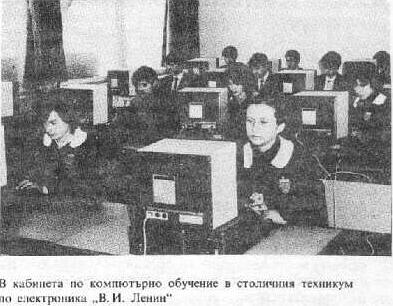 Computer study with Pravetz-82 in Sofia Technical school for electronics (picture taken from an article in "Radio, televiziya, elektronika" 7/1985
&nbsp
Technical specifications of 8-bit Pravetzes (Building!)
Pravetz-82
CPU
6502 running at about 1.018 MHz
RAM installed
48KB in first models expandible to 64KB; 64KB installed in latest machines (?)
ROM
12KB
Monitors
"VMCH 01", "Analitik Mihaylovgrad VMM 3102", modified TV-sets
FDD 5.25"
Several models. For example: EC 5088.02, produced in "Kocho Tzvetarov" factory in Plovdiv and in other factories.
Keyboard and characters
Cyrillic and Latin capital letters. Black keys, white captions on them. Several special buttons are coloured. There's a key "Repeat", that must be kept pushed to repeat entering the key pressed at the moment.
Production
From 1983 to 198?
Additional information: "How does Pravetz-82 work" - a book
&nbsp